Flooring for Your Walls
It's a unique (but not totally unheard of!) concept, and it's gaining traction on popular sites like Pinterest. Putting floor boards up on a feature wall or creating a geometric tile "art piece" are just a few of the ideas out there.
Wood paneling: a revived trend with a modern twist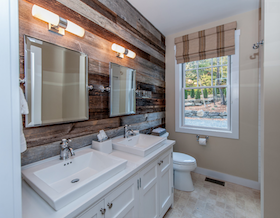 Traditionally, floor and ceiling wood paneling are reminiscent of the 1970s. They can look quite dated, and a modern way to update those houses is with paint, more specifically a nice whitewash "beach house" look. However, wood-look walls are coming back, albeit with a contemporary twist: think horizontal instead of vertical.
In renovations and new home interior designs, the creation of a feature wall within a room is gaining popularity. And no room is off-limits! For instance, this modern bathroom renovation includes a wooden feature wall that makes a big impact and creates quite the talking feature for guests! 
Horizontal boards also look great around the fireplace. While this area has traditionally been reserved for stone, the utilization of hardwood or laminate planks give the space an absolutely modern twist.
Floor to Ceiling Tile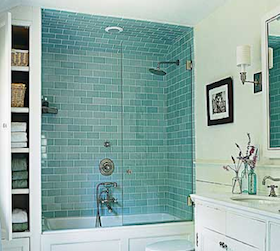 Particularly practical in a room such as a bathroom, floor to ceiling tile can combine waterproof benefits with a gorgeous aesthetic. 
Imagine tiling your whole shower area, including the ceiling above. Now choose your tile size; although subway tiles tend to be the most popular in bathrooms these days, other tile shapes are equally attractive. In terms of colour, you might choose several shades of the same blue, as pictured, or create a border with a different colour. Not only does floor to ceiling tile accent the shower space, it provides incredibly practical water-resistant walls, especially in bathrooms that lack a ceiling fan!
Wainscotting is another trend that can be borrowed for the bathroom. Tile the wall halfway up and finish it off with a decorative border. Or choose from a wide array of luxury vinyl plank designs and create a hardwood look, with the added benefit that this material is water resistant.
For other rooms of the house, consider creating a piece of wall art out of tile. A unique alternative to hanging a piece of artwork, you can make the most of complementary colours and tile types to echo other rooms in the house.
There are so many ideas out there, and thanks to sites like Pinterest (and of course our Facebook page!) your imagination is the only limitation. Hopefully we inspired you to google some ideas, and the next time you walk into a Floors Now store, you won't just be thinking about the flooring under your feet! Happy shopping!
Click here to see our Floor the Walls board on Pinterest!
Come join the conversation on our Facebook page, we'd love to hear from you! Would you or have you put flooring on your walls?
Like us on Facebook for more interior design and flooring style inspiration.
Contributed by Stephanie Gilchrist.
don't know where to start?
Just come on down to one of our stores! Our friendly flooring design consultants will help you to figure out exactly what you need.
find a location
we love happy clients!
"The service is great from the Floors Now team! I can't wait till our floors are installed! #greatcustomerservice"
Mike Miller, via Twitter